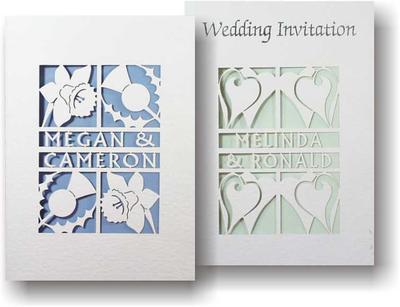 Sculptured Cards include laser cut motifs of your choosing.
The choices you make
Choose from a range of laser cut motifs or design your own.
The Material
You choose the quality of card, from the finest the world has to offer. The range includes a wide variety of finishes and a delightful palette of shades from traditional whites to delicate pastels together with some dark shades.
You can select from many diverse styles of lettering and choose the colour in which it will be printed. Depending on your preference you can order flat litho printing or raised thermography. Your stationery could be embellished with traditional bright gold or silver or with an insert sheet.
Laser Cut Motifs