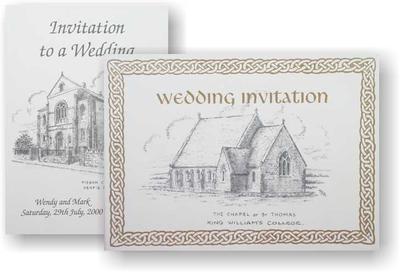 Your wedding is a unique occasion and we hope very much that you will let us play a part in your very special day. As you will see in the following pages, your stationery will be totally personal, unlike any other, anywhere. Each item will carry a delightful pencil sketch of your chosen subject. Your Invitations will be very beautiful and a delight to send and to receive. The Orders of Service will be a memorable souvenir of your celebration which your guests will treasure. The same coordinated theme will be followed for the extra items which you decide to order - Evening Invitations, Response Cards, Menus, Thank You Cards and so on.
The choices you make
You can bring to life the theme of your wedding by simply including a sketch of your chosen subject. Whether you are planning a religious or civil ceremony, a delicate sketch printed on your stationery would be a delightful way to introduce your guests to your wedding venue. The reception venue could also be included or, indeed, any subject which has significance for both of you.
The Material
You choose the quality of card, from the finest the world has to offer. The range includes a wide variety of finishes and a delightful palette of shades from traditional whites to delicate pastels together with some dark shades.
You can select from many diverse styles of lettering and choose the colour in which it will be printed. Depending on your preference you can order flat litho printing or raised thermography. Your stationery could be embellished with traditional bright gold or silver or with an insert sheet.